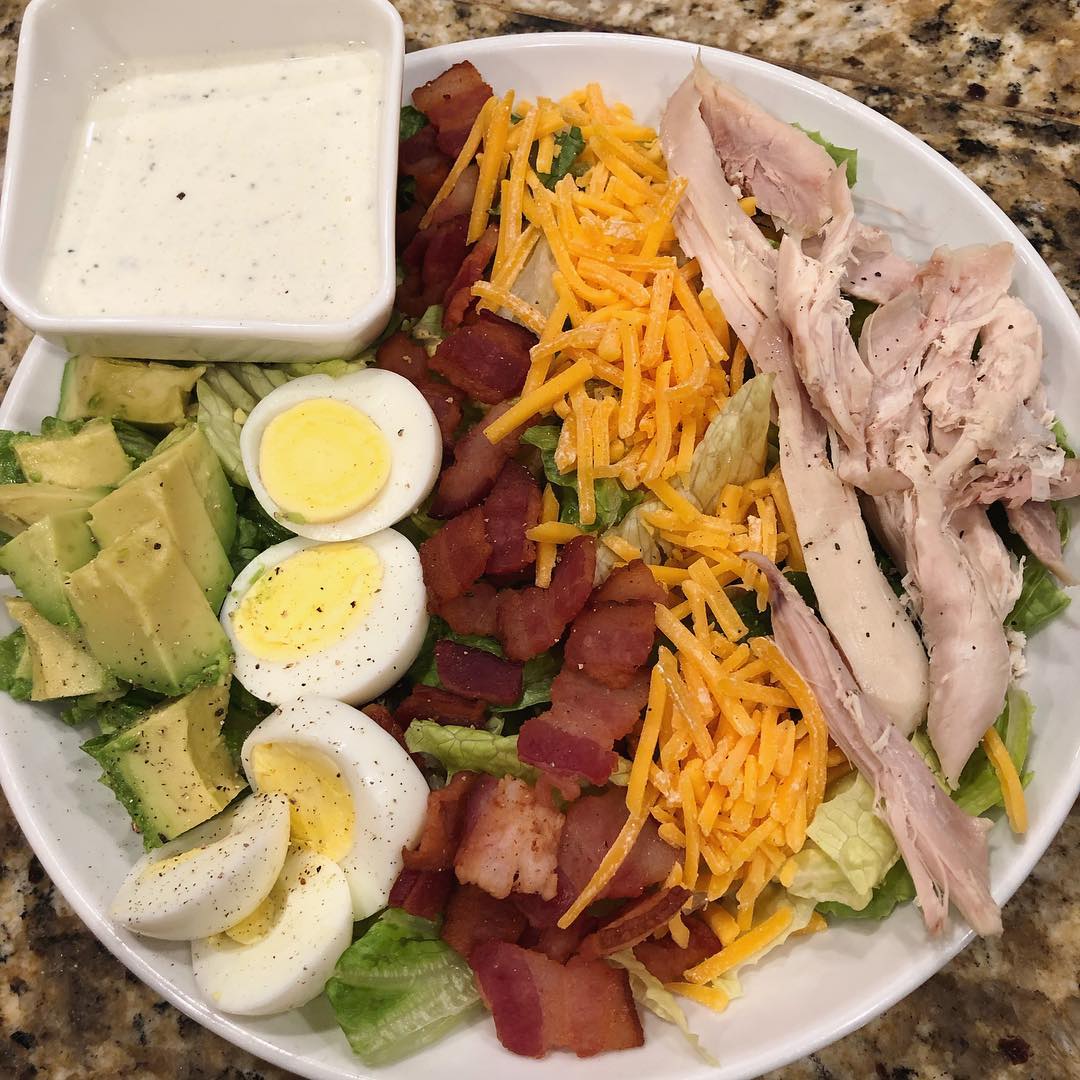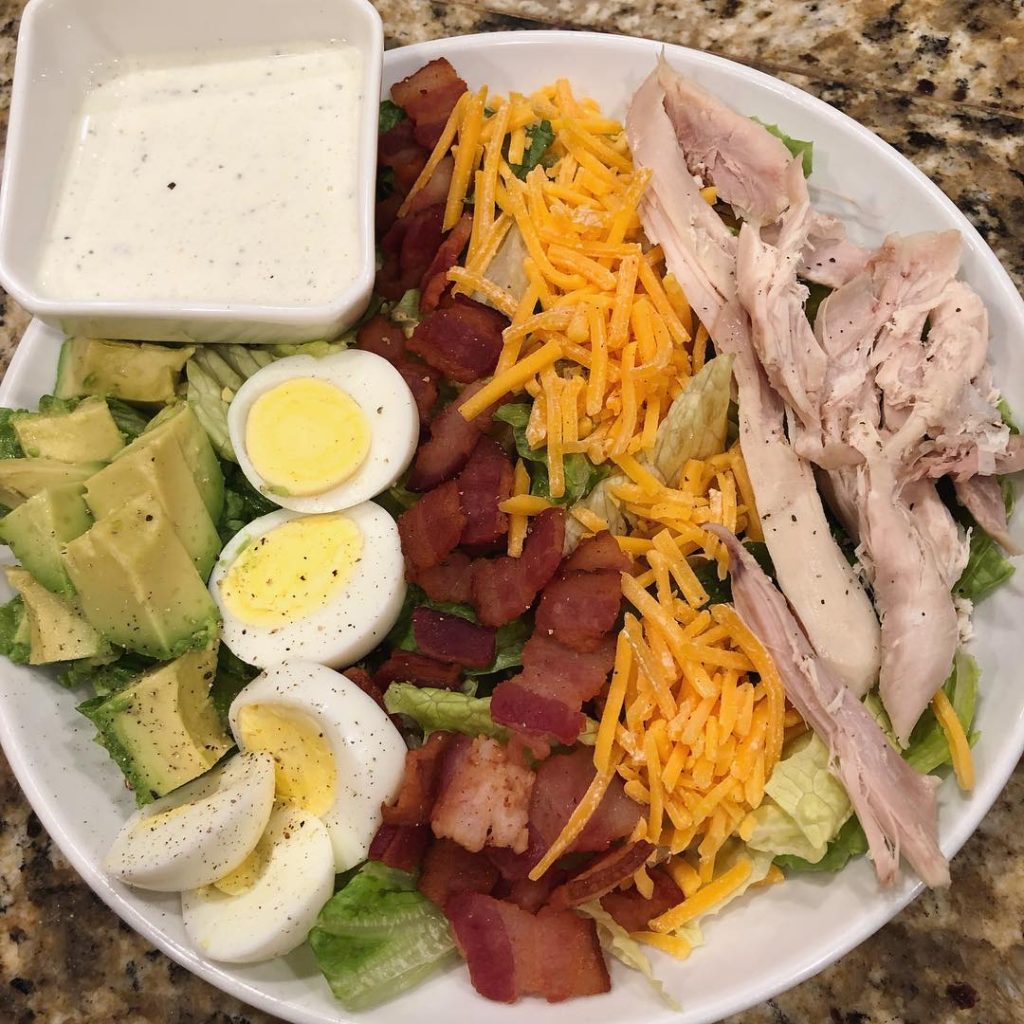 Keto Cobb salad
The Keto Cobb salad is a delicious and satisfying low-carb salad that is perfect for those following a ketogenic diet or anyone looking for a healthy, nutrient-rich meal option. This salad is packed with fresh ingredients and vibrant flavors.
The base of the Keto Cobb salad typically consists of a bed of crisp and refreshing mixed greens, such as romaine lettuce or baby spinach. It is then topped with an array of ingredients that provide a balance of textures and flavors.
One of the main components of the Keto Cobb salad is grilled or roasted chicken breast, which adds a lean source of protein. Other protein options could include grilled salmon or shrimp, or even hard-boiled eggs for a vegetarian version.
Traditional Cobb salads also include bacon, and the Keto version is no different. The crispy bacon pieces add a savory and smoky taste to the salad. Additionally, avocado slices are commonly included, providing healthy fats and a creamy texture.
To add a hint of sweetness and tanginess, cherry tomatoes and crumbled blue cheese are often sprinkled over the salad. These ingredients provide a burst of flavor and additional richness.
Finally, a Keto-friendly dressing is drizzled over the salad. This could be a homemade dressing made with olive oil, vinegar, and spices, or a store-bought option that is low in carbs and added sugars.
The Keto Cobb salad is not only visually appealing but also incredibly nutritious. It offers a wide range of essential nutrients, healthy fats, and high-quality proteins while being low in carbohydrates. It's not only a great option for those following a ketogenic diet but also for anyone who wants to enjoy a delicious and healthy salad.
INGREDIENTS
170 g Bacon chopped, about 6 slices
2 cooked Chicken Breasts from a rotisserie chicken
3 large Hard-boiled Eggs
1 large Ripe Avocado cored, peeled, sliced
240 g Romaine Lettuce chopped, rinsed and dried
50 g Cherry Tomatoes halved
50 g Red Onion thinly sliced
115 g Blue Roquefort Cheese Crumbled
2 tablespoons Chives finely chopped
KETO COBB SALAD DRESSING
Keto sauce Ranch Recipe
INSTRUCTIONS
Cook hard-boiled eggs, cool down in cold water, peel, and cut in quarters. Set aside in a bowl.
In a large skillet, cook bacon until crisp – about 5 minutes, then cool down on a plate covered with absorbent paper.
Meanwhile, prepare the salad dressing. Add all the dressing ingredients to a mason jar, close the lid and shake vigorously to combine.
Wash the lettuce and cherry tomatoes. Chop lettuce in pieces.
To assemble the salad, place the chopped lettuce first, then top with remaining ingredients: shredded cooked chicken breast, bacon, boiled-egg quarters, avocado, halved tomatoes, onion slices, crumbled Roquefort cheese, and chives.
Drizzle the keto salad dressing of your choice, following my keto ranch salad dressing recipe or keto red wine vinaigrette dressing recipe
NURITIONS Amount Per Serving
| | |
| --- | --- |
| Calories | 390kcal |
| Fat | 12g |
| Carbohydrates | 03g |
| Proteins | 10g |