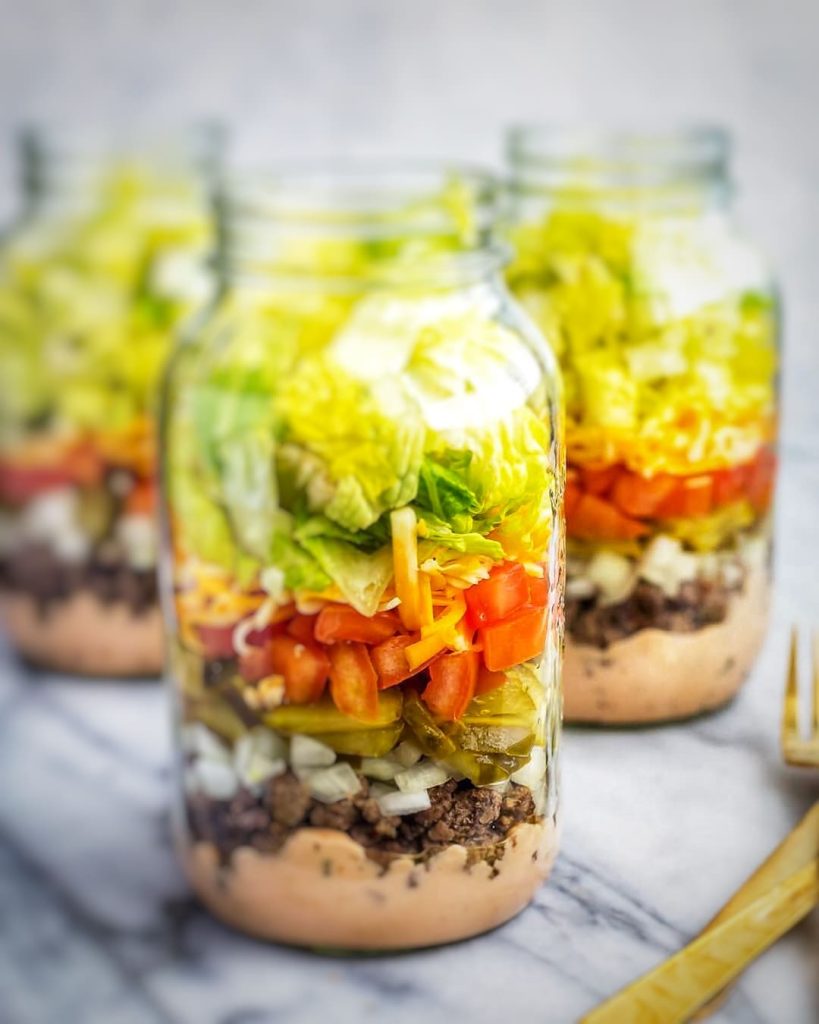 Keto salad jar
A keto salad jar is a delicious and nutritious meal prepared in a mason jar, perfect for those following a ketogenic diet. It consists of layers of low-carb vegetables, protein, healthy fats, and a flavorful dressing, all neatly packed in a portable jar.
Starting from the bottom of the jar, you can layer leafy greens like spinach or arugula as the base. These greens provide an excellent source of fiber and essential vitamins.
Next, you can add a variety of low-carb vegetables such as cherry tomatoes, cucumbers, bell peppers, and radishes. These colorful veggies add crunch and a burst of flavor while keeping the carbohydrate content low.
For the protein component, options like grilled chicken, boiled eggs, or cooked bacon can be included. These protein sources help keep you feeling full and satisfied.
To add healthy fats, you can include avocado slices or cubes, nuts, seeds, or feta cheese. These ingredients not only provide a creamy texture but also offer essential nutrients and satiating fats.
Lastly, a homemade keto-friendly dressing can be drizzled over the layers. Popular dressings for a keto salad jar include olive oil-based vinaigrettes, creamy avocado dressings, or ranch dressings made with full-fat, low-carb ingredients.
By layering the ingredients in a jar, the salad stays fresh and crisp, and you can easily take it on the go. When ready to eat, simply shake the jar to mix the ingredients and enjoy a satisfying keto-friendly meal full of nutrients and flavors.
INGREDIENTS
1 lb extra-lean ground beef
1/2 tsp salt
1 yellow onion, diced
1/2 cup dill pickles, chopped
2 plum tomatoes, diced
1/4 cup shredded cheddar cheese
2 cups romaine lettuce, chopped
Big Mac sauce
1/2 cup light mayo
2 tbsp ketchup
1 tbsp relish
INSTRUCTIONS
Cook ground beef with salt in a medium-sized skillet over med-high heat until fat has absorbed and beef is fully cooked, about 10 minutes.
Meanwhile, mix Big Mac sauce ingredients together. Divide sauce among 4 mason jars. Top with ground beef, then layer with onions, pickles, tomatoes, cheese and lettuce.
Store in the fridge up to 5 days – serve by dumping into a large bowl and enjoy!
NURITIONS
| | |
| --- | --- |
| Calories | 420kcal |
| Fat | 23g |
| Carbohydrates | 8g |
| Proteins | 32g |