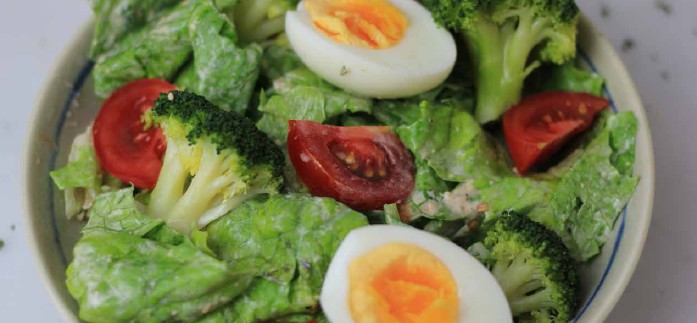 Keto Side Caesar Salad 3
A Keto Side Caesar Salad 3  recipe is necessary to start a meal plan because it is low in carbohydrates. The Keto diet cannot be thought of without a carbohydrate-free recipe.
I will not prolong you, follow me the details of the recipe
The ingredient list for Keto Side Caesar Salad 3 (1 portion)
4 lettuce leaves
1 egg
1/2 tomato
3 broccoli stems (50g)
1 tbsp caesar dressing
Instructions;
1. Put some water to boil and add the egg. Boil for 7 minutes exactly, transfer to an bowl filled with ice water. Peel it. Put the broccoli to boil and cook until tender.
2. Slice the broccoli and egg. Rip the lettuce leaves.
3. Mix everything together with the caesar dressing and eat with one portion of the rosemary pork roast.
Nutrition Facts;
214 calories 16.72g fat 7.85g carbs 2.6g fiber 3.66g sugar 8.96g protein