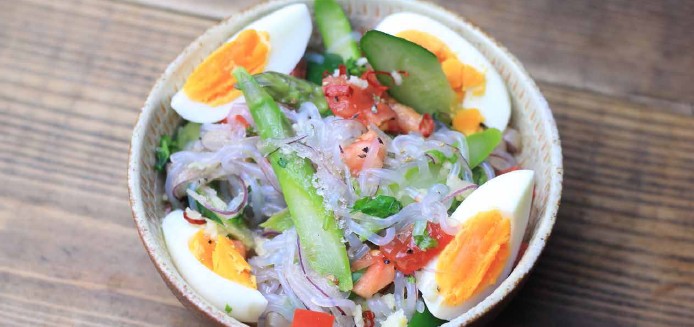 Keto Shirataki Noodles Asian Salad
A Keto Shirataki Noodles Asian Salad recipe is necessary to start a meal plan because it is low in carbohydrates. The Keto diet cannot be thought of without a carbohydrate-free recipe.
I will not prolong you, follow me the details of the recipe
The ingredient list for Keto Shirataki Noodles Asian Salad (1 portion)
200 g shirataki noodles (konjac)
2 asparagus (40g)
1/2 cup cucumber (65g)
1/2 tomato (65g)
1/16 red onions (20g)
1 stem cilantro
1 garlic
1 egg
2 tsp coconut aminos
1 tsp fish sauce
1/2 tsp sesame oil
1 tsp lemon juice
1/4 tsp salt and pepper
1/4 tsp hot chili oil or chili flakes
Instructions;
1. Put some water to boil in a pot. Place the egg inside and boil for 7 minutes exactly. Once cooked,
transfer to a bowl full of ice water. Peel and cut in four.
2. Wash the shirataki noodles under some water and boil for 2 minutes. This will get rid of their smell. In the same pot, add the asparagus and boil until tender. Drain the water and let the noodles and asparagus cool down. You can cut the noodles in half to make them shorter as they tend to be super long.
3. Thinly slice the red onion with a cabbage shredder. Cut the asparagus in half. Dice the tomato, slice the cucumber, chop the cilantro, and mince the garlic using a garlic crusher.
4. Combine all of the ingredients in a large bowl and mix. Serve cold!
Nutrition Facts;
149 calories 7.53g fat 12.45g carbs 4.3g fiber 5.02g sugar 8.86g protein