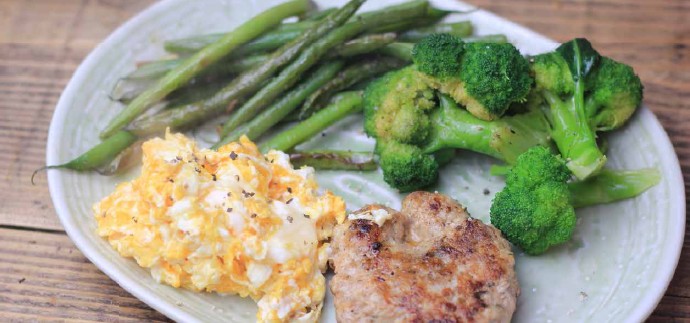 Keto Breakfast Sausage, Eggs & Greens
A Keto Breakfast Sausage, Eggs & Greens recipe is necessary to start a meal plan because it is low in carbohydrates. The Keto diet cannot be thought of without a carbohydrate-free recipe.
I will not prolong you, follow me the details of the recipe
The ingredient list for Keto Breakfast Sausage, Eggs & Greens (1 portion)
1 breakfast sausage
2 eggs
4 broccoli florets
50g green beans
1.5 tbsp olive oil
1 garlic clove
pinch salt, pepper, garlic powder
Instructions;
1. Cut the stems off the green beans. Mince the garlic.
2. Put some water to boil in a pot. Add the broccoli and green beans and cook until tender. Take out of the water once cooked. Place the broccoli onto a plate.
3. Add the olive oil to a frying pan and add the breakfast sausage. Cook on both sides until cooked through. Add the eggs and scramble them. Place the eggs and sausage to the plate.
4. Add the garlic and green beans to the frying pan. Fry until the garlic is starting to crisp up. Sprinkle some salt, pepper and garlic powder over the beans and scrambled eggs.
Nutrition Facts;
560 calories 43.30g fat 12g carbs 7g fiber 2.79g sugar 31.71g protein