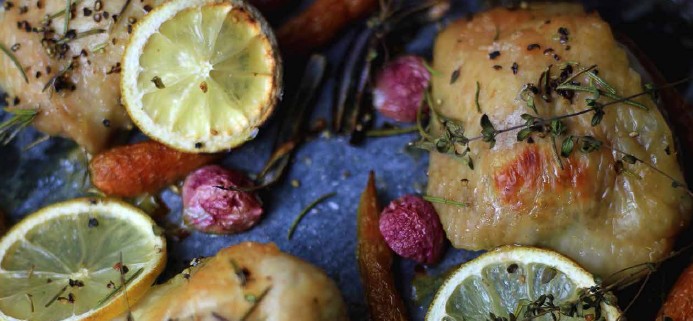 Keto Grilled Rosemary Chicken with Veggies
A Keto Grilled Rosemary Chicken with Veggies recipe is necessary to start a meal plan because it is low in carbohydrates. The Keto diet cannot be thought of without a carbohydrate-free recipe.
I will not prolong you, follow me the details of the recipe
The ingredient list for Keto Grilled Rosemary Chicken with Veggies (3 portions)
3 boneless chicken legs (800g)
14 mini carrots
6 garlic cloves
10 radishes
1/4 red onion
1 lemon
1 tbsp rosemary
1 tbsp thyme
1/2 tsp salt
1/2 tsp black pepper
2 tbsp olive oil
Instructions;
1. Preheat the oven to 190C/410F.
2. Slice the radishes in half, cut the lemon into 6 slices, slice the red onion and cut the chicken thighs into two.
3. Place the chicken thighs on a baking tray that's been covered with parchment paper (to avoid a mess) and scatter the veggies everywhere around the thighs. Place the lemon slices over the chicken, drizzle the whole tray with the olive oil and sprinkle the salt, pepper, rosemary and thyme over everything.
4. Place in oven and bake for 45 minutes. Take out of the oven and serve hot!
Nutrition Facts;
666 calories 38.08g fat 7.76g carbs 2.2g fiber 2.38g sugar 34.86g protein