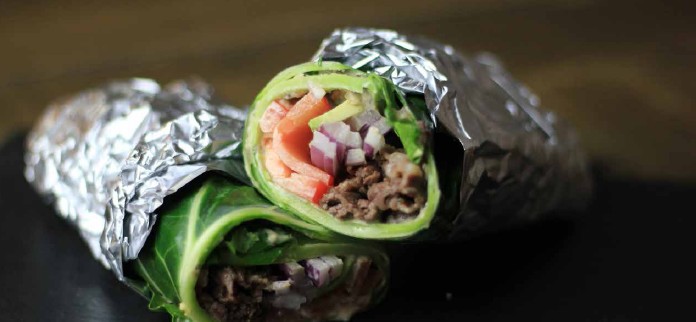 Keto Kale Beef & Veggie Caesar Wrap
A Keto Kale Beef & Veggie Caesar Wrap recipe is necessary to start a meal plan because it is low in carbohydrates. The Keto diet cannot be thought of without a carbohydrate-free recipe.
I will not prolong you, follow me the details of the recipe
The ingredient list for Keto Kale Beef & Veggie Caesar Wrap (1 portion)
1 portion caesar dressing
1 large kale leaf (50g)
1/2 avocado
1/2 tomato
1/8 red onion
100g thinly sliced beef
1 tbsp olive oil
1/4 tsp salt, pepper, garlic powder
Instructions;
1. Carefully trim the stem of the kale leaf so that you can roll the leaf to make a sandwich.
2. Slice the avocado, red onion and tomato.
3. Heat the olive oil in a skillet and add the sliced beef. Sprinkle the salt, pepper and garlic powder and cook until cooked through 1-2 minutes.
4. Spoon the caesar dressing over the entire leaf. On one end, add all of the toppings and carefully roll the leaf into a wrap. You can use aluminum foil to keep it from rolling out.
Nutrition Facts;
714 calories 59.64g fat 17.23g carbs 8.6g fiber 2.66g sugar 30.93g protein