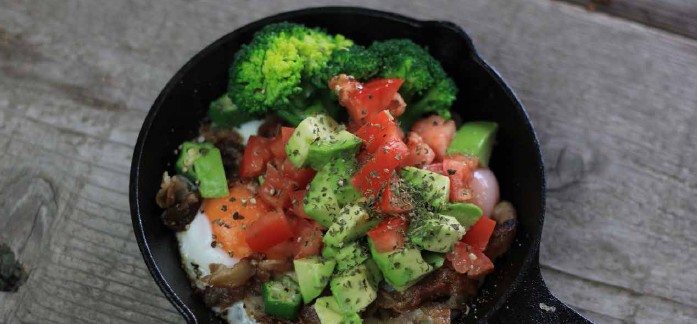 Keto Eggs in Mini Skillet
A Keto Eggs in Mini Skillet recipe is necessary to start a meal plan because it is low in carbohydrates. The Keto diet cannot be thought of without a carbohydrate-free recipe.
I will not prolong you, follow me the details of the recipe
The ingredient list for Keto Eggs in Mini Skillet (2 portions)
2 slices bacon
2 eggs
1/2 avocado
1 okra
1/2 tomato
3 boiled broccoli (50g)
sprinkle salt, pepper, parsley
Instructions;
1. Fry the bacon until crispy in a 6" mini skillet. Chop into bits. Dice the tomato and avocado. Slice the okra into a few pieces.
2. In the same mini skillet, rack the eggs open into the bacon grease, cover and cook on low heat until cooked through. Top with the bacon bits, tomato, avocado, okra, and broccoli. Sprinkle the salt, pepper, and parsley over.
Nutrition Facts;
491 calories 40.87g fat 15.07g carbs 8.7g fiber 3.90g sugar 19.34g protein