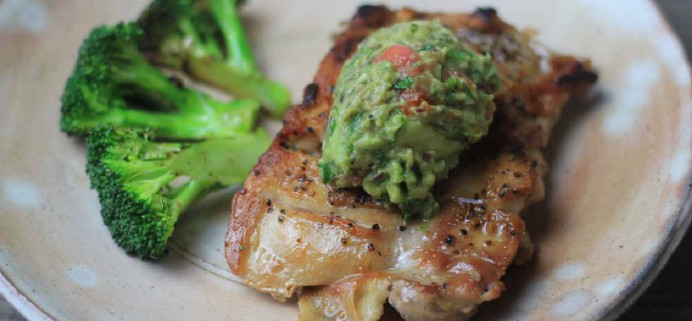 Keto Grilled Chicken & Guacamole
A Keto Grilled Chicken & Guacamole recipe is necessary to start a meal plan because it is low in carbohydrates. The Keto diet cannot be thought of without a carbohydrate-free recipe.
I will not prolong you, follow me the details of the recipe
Ingredient list Keto Grilled Chicken & Guacamole (1 portion)
1 chicken thigh with skin (150g)
1 tbsp olive oil
1/2 tsp salt, pepper
1/2 avocado
1/4 tomato
1 green onion stem
1 slice red onion
pinch salt and pepper
3 boiled broccoli (25g)
Instructions;
1. Sprinkle the salt and pepper over the chicken thigh on both sides.
2. Heat the olive oil in a cast-iron skillet and place the thigh skin side down. Grill on both sides until cooked through, about 4-5 minutes.
3. Dice the tomato and red onion. Mince the garlic and green onion. Mash the avocado and mix with the rest, and add the salt and pepper. Top over the chicken along with the broccoli.
Nutrition Facts;
677 calories 51.53g fat 14.38g carbs 8.6g fiber 2.83g sugar 41.14g protein