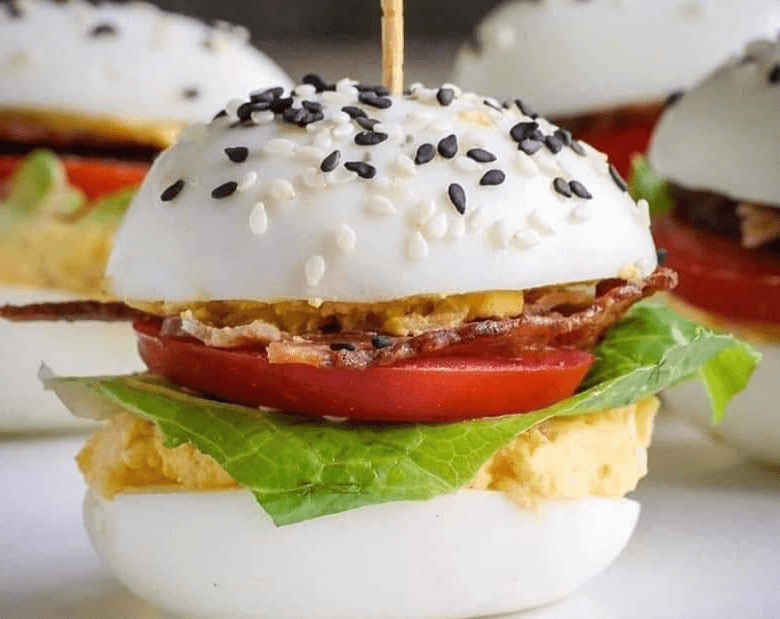 keto devilled egg sliders
These are the best keto deviled eggs! If you love BLT's and deviled eggs, these are going to become your new favorite recipe.
keto devilled egg sliders
6 large eggs
2 tbsp mayonnaise, homemade or Whole30 compliant
2 tsp hot sauce
1/4 cup sauerkraut, drained and roughly chopped
1/4 tsp garlic powder
1/4 tsp sea salt
1/4 tsp black pepper
6 slices sugar-free bacon, cooked
roma tomato sliced
romaine lettuce roughly torn
1 tsp sesame seeds
INSTRUCTION :
Place a steamer basket in a saucepan and pour in one inch of water. Bring the water to a boil and add the eggs. Cover, and steam for 12 minutes.
Immediately transfer the eggs to an ice bath, peel, and cut in half.
Scoop the egg yolks into a mixing bowl and add the mayonnaise, hot sauce, sauerkraut, garlic powder, salt, and pepper. Mix well until combined.
Divide the mixture among the egg whites. Stack a piece of lettuce, a tomato slice, and a slice of bacon on top of one half, then top with another half of an egg. Secure with a toothpick.
Sprinkle the sesame seeds on top of the sliders and enjoy!