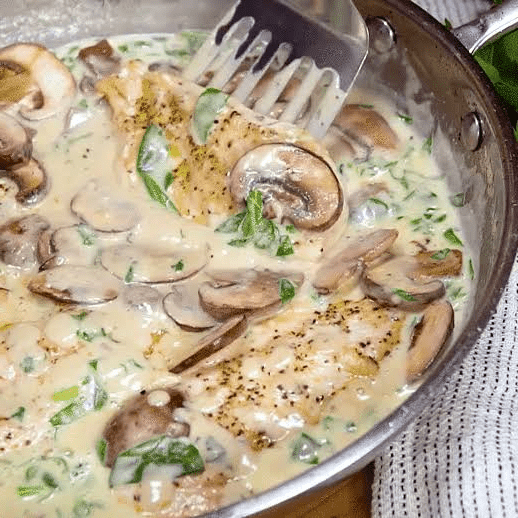 keto creamy parmesan garlic mushroom chicken
keto creamy parmesan garlic mushroom chicken. Hello my friends. As we always return, we publish to you the best tried and tested recipes at home, the fast and easy garlic cream parmesan chicken is full of flavors, and the whole family will love it. Fluffy, Grilled Chicken In A Creamy Garlic Sauce With Parmesan With Sauteed Mushroom And Baby Spinach – This Is One Recipe You Will Need To Make Over And Over!
Ingredients for keto creamy parmesan garlic mushroom chicken
4 boneless, skinless chicken breasts, thinly sliced
2 Tablespoons Olive oil
Salt Pepper
8 ounces sliced mushrooms
Creamy Parmesan Garlic Sauce:
¼ cup butter
2 garlic cloves, minced
1 tablespoon Almond flour
½ cup chicken broth
1 cup heavy cream or half and half
½ cup grated parmesan cheese
½ teaspoon garlic powder
¼ teaspoon pepper
½ teaspoon salt
1 cup spinach, chopped
INSTRUCTIONS
In a large skillet add olive oil and cook the chicken on medium-high heat for 3-5 minutes on each side or until brown on each side and cooked until no longer pink in center. Remove chicken and set aside on a plate. Add the sliced mushrooms and cook for a few minutes until tender. Remove and set aside.
To make the sauce add the butter and melt. Add garlic and cook until tender. Whisk in the flour until it thickens. Whisk in chicken broth, heavy cream, parmesan cheese, garlic powder, pepper, and salt. Add the spinach and let simmer until it starts to thicken and spinach wilts. Add the chicken and, mushrooms back to the sauce and serve over pasta are desired.
Gift For the visitors of this website. Download the keto Meal Plan FREE here