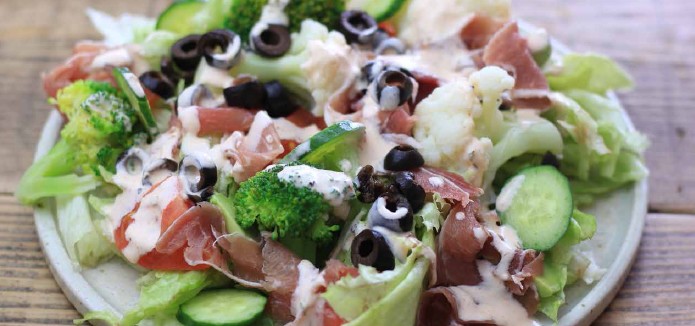 Keto Cauliflower & Veggie Ranch Salad
A Keto Cauliflower & Veggie Ranch Salad recipe is necessary to start a meal plan because it is low in carbohydrates. The Keto diet cannot be thought of without a carbohydrate-free recipe.
I will not prolong you, follow me the details of the recipe
The ingredient list for Keto Cauliflower & Veggie Ranch Salad  (1 portion)
4 lettuce leaves
3 broccoli florets (50g)
3 cauliflower florets (50g)
40g prosciutto
1/2 tomato
1/4 cup sliced cucumber
2 tbsp sliced black olives
Spicy Ranch Dressing:
1.5 tbsp mayo
1 tsp unsweetened almond milk
1/4 tsp paprika powder
1/4 tsp chili oil
1/4 tsp salt, pepper
1/2 tsp oregano
Instructions;
1. Put some water to boil in a pot and add the cauliflower and broccoli in. Cook until tender.
2. Cut the tomato and slice the cucumber.
3. Mix the dressing ingredients together.
4. Add all of the salad ingredients on a plate and drizzle the dressing over.
Nutrition Facts;
310 calories 23.22g fat 12.32g carbs 4.76g fiber 4.7g sugar 14.90g protein