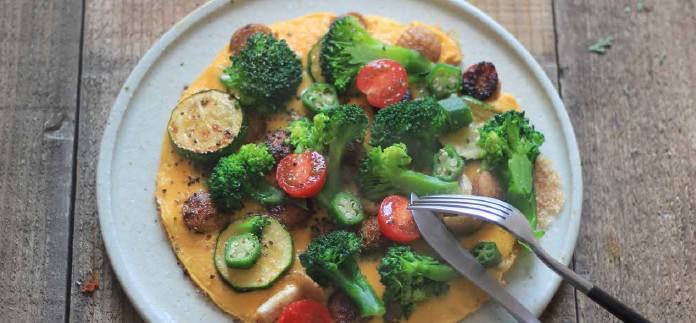 Keto Veggie Omelette
A Keto Veggie Omelette recipe is necessary to start a meal plan because it is low in carbohydrates. The Keto diet cannot be thought of without a carbohydrate-free recipe.
I will not prolong you, follow me the details of the recipe
The ingredient list for Keto Veggie Omelette  (1 portion)
2 eggs
3 broccoli (40g)
1 okra (10g)
2 mushrooms (20g)
1 breakfast sausage (80g)
1/4 zucchini (50g)
2 cherry tomatoes
1 tsp olive oil
pinch salt & pepper
Instructions;
1. Slice the broccoli, sausages, mushrooms, zucchini and cherry tomatoes in a few pieces.
2. Heat the oil in a medium skillet, and fry the sausage, mushrooms and zucchini slices for 2-3 minutes until cooked through. Put aside.
3. Put some water to boil and boil the sliced broccoli and okra for 2 minutes. Take out of the boiling water, and slice the okra in 6-8 pieces.
4. Crack the eggs into a bowl and whisk for a minute with a whisk. Pour the egg batter in a frying pan and cook on low heat. Top with all of the veggies and meat, cover and cook until the eggs are cooked through. The omelet should just slide out of the frying pan onto a plate.
Nutrition Facts;
399 calories 27.97g fat 9.34g carbs 3.2g fiber 4.42g sugar 26.59g protein