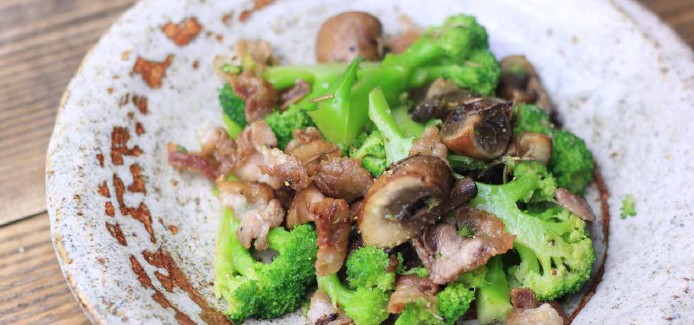 Keto Bacon, Broccoli & Mushrooms
A Keto Bacon, Broccoli & Mushrooms recipe is necessary to start a meal plan because it is low in carbohydrates. The Keto diet cannot be thought of without a carbohydrate-free recipe.
I will not prolong you, follow me the details of the recipe
The ingredient list for Keto Bacon, Broccoli & Mushrooms (1 portion)
80g broccoli
4 brown mushrooms (40g)
3 slices bacon (40g cooked)
1/4 tsp salt
1/2 tsp rosemary
1/4 tsp garlic powder
pinch black pepper.
Instructions;
1. Put some water to boil in a small pot and cook the broccoli until tender.
2. Sprinkle the salt over the bacon slices and cut into 1cm strips.
3. Cut the mushrooms in 6.
4. Fry the bacon in a frying pan for a minute and add the mushrooms. Add the rosemary and fry until the bacon is crispy. Add the broccoli, mix everything together and sprinkle the garlic powder and black pepper over.
Nutrition Facts;
386 calories 26.22g fat 4g carbs 1.6g fiber 0.98g sugar 32.72g protein