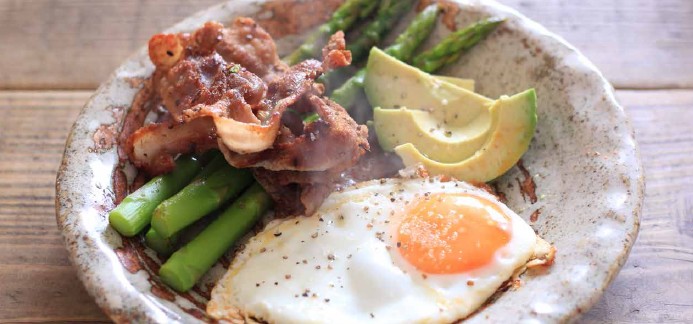 Keto Bacon, Eggs & Asparagus
A Keto Bacon, Eggs & Asparagus recipe is necessary to start a meal plan because it is low in carbohydrates. The Keto diet cannot be thought of without a carbohydrate-free recipe.
I will not prolong you, follow me the details of the recipe
The ingredient list for Keto Bacon, Eggs & Asparagus (1 portion)
1/4 avocado
3 bacon slices
4 asparagus
1 egg
pinch salt and pepper
Instructions;
1. Cut the stems off the asparagus. Slice the avocado. Put some water to boil in a pot and add the asparagus. Cook until tender.
2. Fry the bacon in a skillet until crispy.
3. Crack the egg in the bacon grease and cook it until ready.
4. Add everything to the plate and sprinkle some salt and pepper over everything.
Nutrition Facts;
370 calories 27.90g fat 8.3g carbs 5.1g fiber 2.21g sugar 22.75g protein