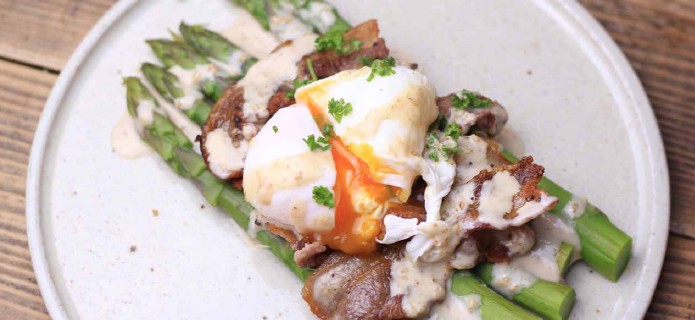 Keto Asparagus, Bacon & Poached Egg
A Keto Asparagus, Bacon & Poached Egg recipe is necessary to start a meal plan because it is low in carbohydrates. The Keto diet cannot be thought of without a carbohydrate-free recipe.
I will not prolong you, follow me the details of the recipe
The ingredient list for Keto Asparagus, Bacon & Poached Egg (1 portion)
6 asparagus
3 slices bacon
1 egg
1 tbsp sesame dressing
1 tbsp white vinegar
pinch parsley
Instructions;
1. Add some water to a small pot and the white vinegar and put to simmer. Add the egg in a bowl. Swirl the water with a spatula and add the egg inside the middle of the whirlpool. Turn off the heat and cook the egg for 6 minutes exactly. Carefully take it out.
2. Fry the bacon until crispy. Cut the stems off the asparagus and fry into the bacon grease.
3. Place the asparagus onto a plate, cover with the bacon and poached egg and spoon the sesame dressing over. Add a bit of parsley over everything.
Nutrition Facts;
288 calories 21.07g fat 6.65g carbs 3.15g fiber 2.64g sugar 18.21g protein