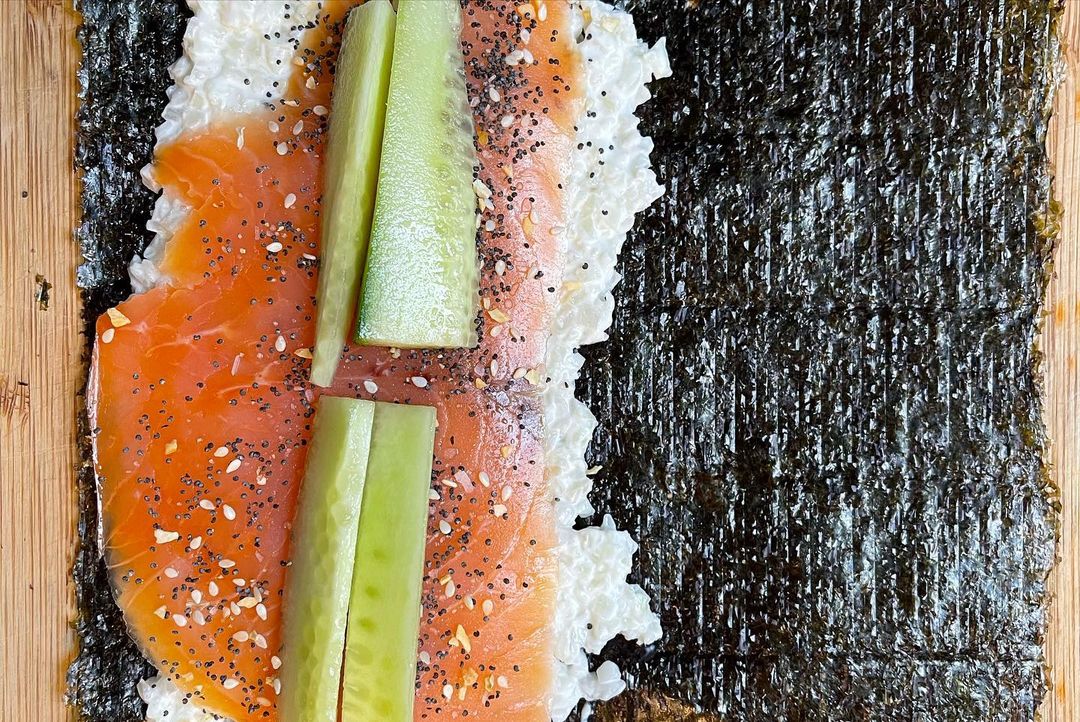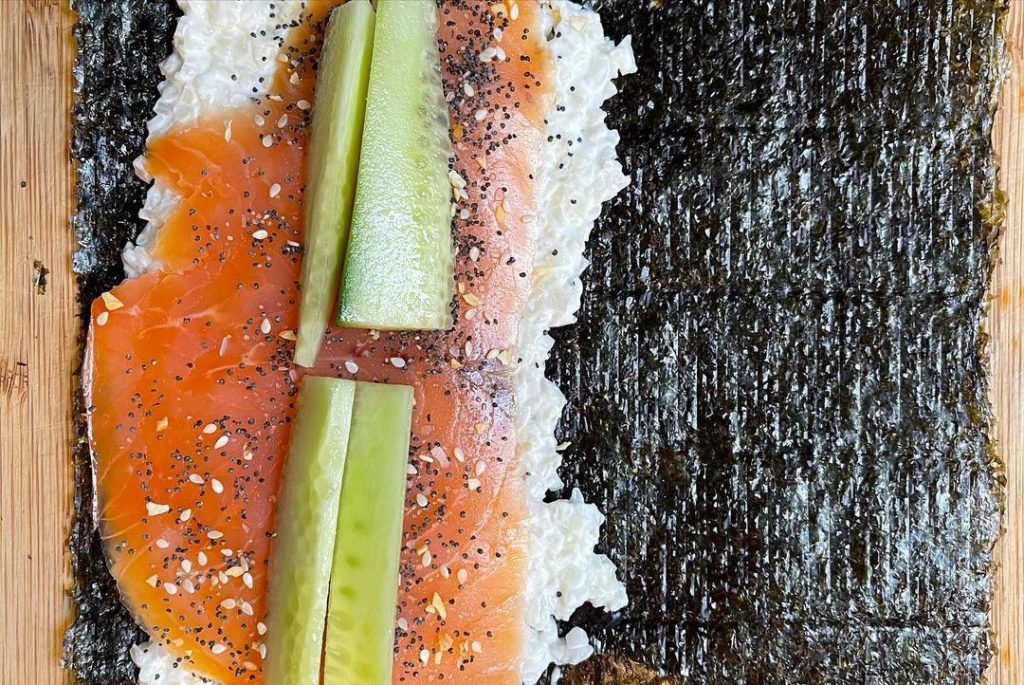 Keto Sushi
Keto sushi is a low-carb and high-fat variation of traditional sushi, which is typically made with rice. In keto sushi, the rice is substituted with other low-carb, high-fiber ingredients to create a delicious and healthy alternative.
The base of keto sushi often consists of thinly sliced cucumber, nori seaweed, or lettuce leaves used as a wrapper. Inside the rolls, you can find a variety of ingredients such as fresh fish, seafood (like crab or shrimp), sliced avocado, cucumber, or other low-carb vegetables. These ingredients provide healthy fats, protein, and vitamins while keeping the carbohydrate content low.
To add flavor and texture, keto sushi may also include keto-friendly sauces like mayo-based sauces, low-carb soy sauce, or a spicy mayo. Some variations even use cauliflower rice as a replacement for traditional rice, which provides a similar texture without the high carb content.
Keto sushi is a great option for those following a ketogenic diet or anyone who wants to enjoy a healthier version of sushi while reducing their carbohydrate intake.
INGREDIENTS
FOR THE KETO SUSHI RICE
4 cups cauliflower florets chopped, approximately half a large cauliflower
1/2 teaspoon salt
1 tablespoon white vinegar
2 tablespoon sugar free powdered sugar
FOR THE SUSHI ROLLS
2 sheets Nori
2 tablespoon mayonnaise
1/4 cup sushi grade salmon or protein of choice
1/2 small cucumber sliced into strips
1/8 teaspoon sesame seeds
1 serving wasabi optional
INSTRUCTIONS
In a food processor, add your chopped cauliflower florets and pulse until it reaches the consistency of rice.
Transfer the rice into a microwave safe bowl and sprinkle with salt. Microwave for 4-5 minutes, until soft and tender. Remove excess moisture and let it cool completely. Once cool, add the vinegar and powdered sugar and mix until combined.
Place your nori sheets on a flat surface. Divide the cauliflower sushi rice amongst the two sheets, reserving 1/4 of an inch around the perimeter of it.
Spread the mayonnaise on each roll, followed by the salmon and cucumber, then sprinkle with sesame seeds. If using wasabi, spread a thin layer down the side.
Roll up each roll very tightly, removing any of the filling that seeps out. Using a sharp and slightly wet knife, slice the sushi into pieces.
NOTE
(01) TO STORE: Leftover sushi can be stored in the refrigerator, covered, for up to 3 days.
(02) TO FREEZE: Place sushi in a shallow container and store it in the freezer and it will keep well for up to 2 months. You must let it thaw completely before serving.
NURITIONS Amount Per Servings
| | |
| --- | --- |
| Calories | 220kcal |
| Fat | 3,5g |
| Carbohydrates | 4,2g |
| Proteins | 16g |