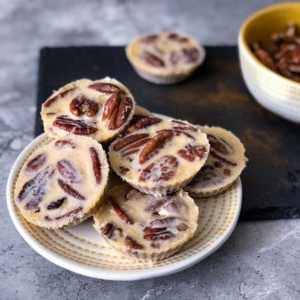 KETO SUGAR-FREE PECAN PRALINES
Keto Pecan Pralines are the perfect keto candy or keto dessert. They are quick and super easy to make. Best of all, they are only 1 net carb per serving. Keto Pralines are so DELICIOUS. Give them a try and you won't be disappointed.
Ingredients for keto sugar-free pecan pralines
1 cup toasted pecans
1/2 cup Lakanto Golden Monkfruit, or 1/3 if using other sweeteners (swerve, erythritol)
1/3 cup butter, unsalted
6 tbsp heavy cream
1 tsp vanilla
1/2 tsp cinnamon
Pinch of sea salt
Instructions
Preheat oven to 300 degrees and place pecans on a sheet pan. Toast for 10 minutes and set aside.
In a large saucepan over medium heat, combine sweetener, butter, cinnamon, heavy cream, and vanilla. Slowly stir until sweetener is dissolved and is a deep golden brown color (6-8 mins).
Remove mixture from heat and immediately stir in the pecans and salt.
Line silicone muffin cups into a muffin pan and quickly drop spoonfuls into cups. Add to freezer until firm, about 30 mins. Enjoy!