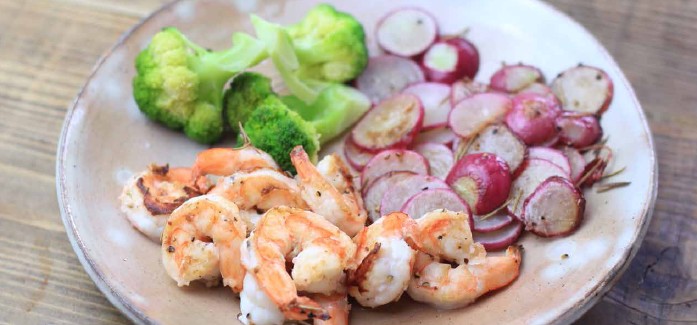 Keto Rosemary Shrimps & Radishes
A Keto Rosemary Shrimps & Radishes recipe is necessary to start a meal plan because it is low in carbohydrates. The Keto diet cannot be thought of without a carbohydrate-free recipe.
I will not prolong you, follow me the details of the recipe
The ingredient list for Keto Rosemary Shrimps & Radishes  (1 portion)
5 radishes (85g)
10 shrimps (100g)
3 broccoli florets (60g)
1 tbsp rosemary
1 tbsp olive oil
1/2 tsp salt, pepper
Instructions;
1. Put some water to boil in a pot and add the broccoli. Cook until tender.
2. In a skillet, heat the oil and add the radishes to one side and the shrimps to another. Sprinkle the salt, pepper, and rosemary and cook for a few minutes. The radishes should be soft and crunchy, and the shrimps should be orange.
3. Put everything on a plate and enjoy!
Nutrition Facts;
261 calories 15.63g fat 8.13g carbs 3.2g fiber 2.82g sugar 22.64g protein