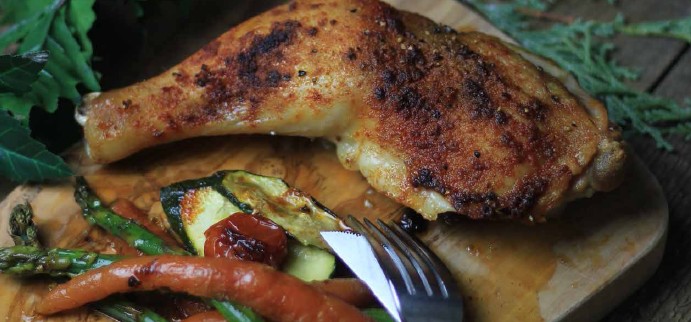 Keto Roasted Chicken Leg & Veggies
A Keto Roasted Chicken Leg & Veggies recipe is necessary to start a meal plan because it is low in carbohydrates. The Keto diet cannot be thought of without a carbohydrate-free recipe.
I will not prolong you, follow me the details of the recipe
The ingredient list for Keto Roasted Chicken Leg & Veggies  (2 portions)
6 asparagus spears (40g)
1/2 zucchini
100g mini carrots
2 chicken legs (600g)
1 tbsp olive oil
6 cherry tomatoes (80g)
1/4 tsp salt, black pepper, cumin,
paprika, chili powder
Instructions;
1. Preheat the oven to 200C/400F.
2. Cut the stems off the asparagus. Slice the zucchini into vertical slices. Slice the mini carrots in half. Place all of the veggies in a 10" cast iron skillet. Cover with the two chicken legs. Pour the olive oil over everything. Sprinkle the spices over both of the chicken legs.
3. Place the skillet in the oven and bake for 50 minutes uncovered.
4. Take out and enjoy. Keep half for another meal.
Nutrition Facts;
632 calories 37.78g fat 9.06g carbs 3g fiber 4.69g sugar 61.15g protein