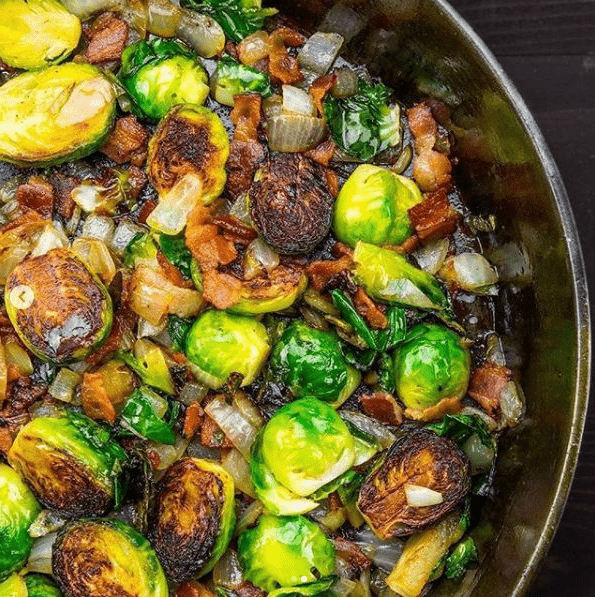 keto Roasted Brussels Sprouts with Bacon
keto Roasted Brussels Sprouts with Bacon, Welcome visitors to this website, which is considered unique in providing Keto recipes and tips. When we talk about keto we are looking for recipes with low carbs. This specification that I will provide you with is ideal, And low carbohydrates. Fried Brussels sprouts fried with bacon serve a fast carb side dish. With only 5 pure carbs per serving, they are perfect served alongside a steak or some grilled chicken.
Ingredients for keto Roasted Brussels Sprouts with Bacon
(Makes 4 Servings)
6 slices nitrite-free bacon, cut into 1/2-inch pieces
1 lb Brussels sprouts, stems trimmed and sprouts halved
3 Tbsp olive oil
Juice of 1/2 large lemon
4-6 cloves garlic, chopped or left whole
1 small organic yellow onion, chopped
2 tsp red chili pepper flakes
Instruction :
1- Preheat oven to 400°F.
2- Spread Brussels sprouts in a single layer in a large baking dish.
3- Drizzle with olive oil and lemon juice, then add garlic, onion, and chili flakes.
4- Toss to combine, and sprinkle with bacon pieces.
5- Roast in a hot oven until bacon is crispy and the Brussels sprouts are caramelized, about 45 minutes, stirring halfway through.
Fun fact:
Brussels sprouts are part of the cruciferous vegetable family, along with broccoli, cauliflower, and cabbage. Cruciferous veggies are fantastic detoxifiers, so these are great to put into the regular rotation to be sure you're cleansing your system of toxins!_
Enjoy.
Gift For the visitors of this website. Download the keto Meal Plan FREE here