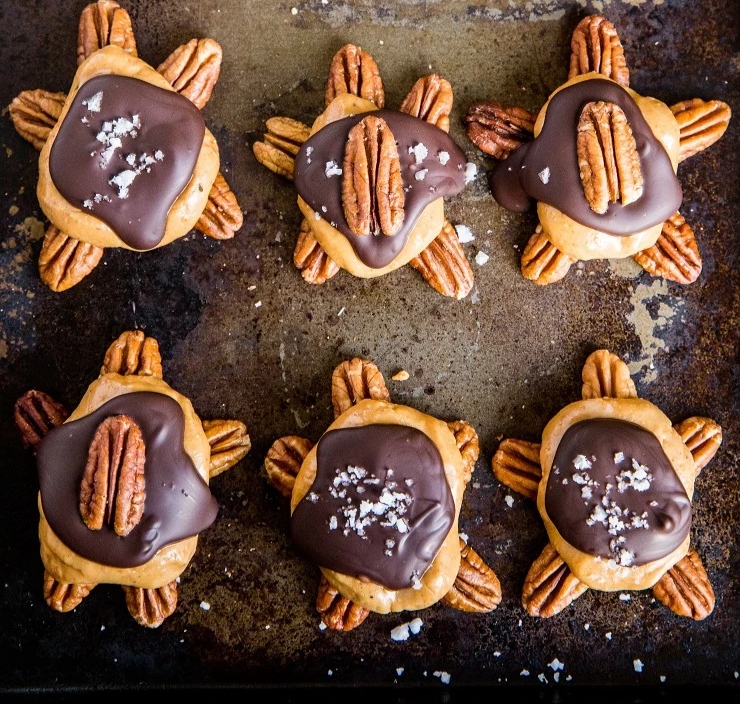 keto Pecan Turtle Candies
keto Pecan Turtle Candies are a fun and easy treat for people of all ages to enjoy! these low-carb pecan turtles are a fun candy for sharing with friends and family or giving away as gifts.
Ingridient for keto Pecan Turtle Candies
6 tablespoon Swerve Brown
3 tablespoon Bocha Sweet (or allulose or xylitol)
5 tablespoon butter divided
½ cup heavy whipping cream
¼ tsp xanthan gum
¼ teaspoon sea salt
2 cups pecan halves
4 ounces sugar free dark chocolate chopped
More sea salt for sprinkling, if desired
INSTRUCTIONS:
In a large saucepan over medium heat, combine the sweeteners and 4 tablespoons of the butter. Bring to a boil and cook 3 to 5 minutes, watching carefully so it doesn't burn. Remove from heat and add the cream. The mixture will bubble vigorously.
Return the mixture to heat and bring back to a boil. Boil 3 minutes, watching carefully. Sprinkle the surface with xanthan gum and whisk to combine. Whisk in the salt. Let the caramel cool until thickened but still pourable, about 1 hour
Meanwhile, preheat the oven to 350F and line a cookie sheet with parchment or a silicone baking mat. Spread the pecans out on the mat in a single later and bake 7 to 10 minutes, until toasted. Arrange the pecans in clusters of 3 or 4, making about 20 to 24 clusters.
Drizzle a few teaspoons of caramel over each pecan cluster, making sure some caramel is touching each of the pecans. Place the cookie sheet in the freezer to set the caramel.
In a small bowl set over a bowl of barely simmering water, combine the chocolate and the remaining tablespoon of butter. Stir until melted and smooth, then drizzle over the chilled clusters.
Sprinkle with sea salt if desired, and let set.
NURITION:
| | |
| --- | --- |
| Calories | 242kcal |
| Fat | 23.9g |
| Carbohydrate | 6.3g |
| Proteins | 2.4g |