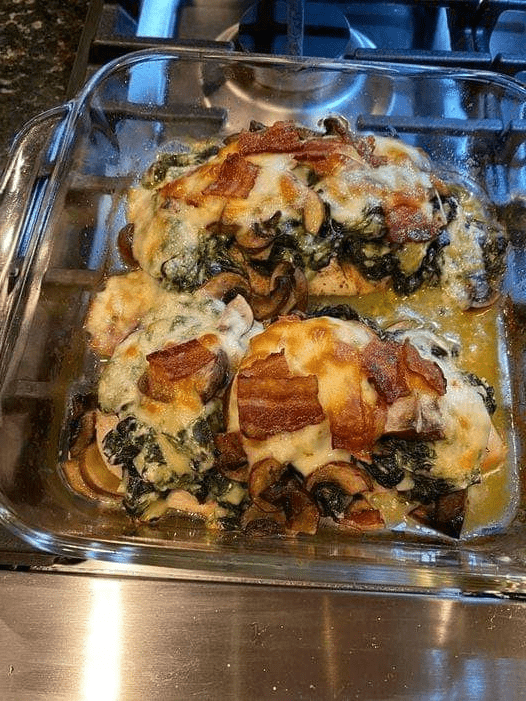 Keto low carb smothered chicken
Keto low carb smothered chicken recipes are a simple, i make every weekend for my mom. Easy and delicious dinner idea. Seasoned well and smothered in a delicious keto bbq sauce, your family will be licking their fingers. enjoy
INGREDIENT FOR SMOTHERED CHICKEN:
4 (8 ounces) boneless chicken thighs
1 teaspoon paprika
5 slices bacon, cut into 1/2 inch pieces
⅓ Cup chicken broth
5 ounces sliced mushrooms
¼ cup heavy whipping cream
1 green onions, white and green parts separated and sliced
INSTRUCTION:
1) preheat your oven to 200 degrees C.
2) season chicken thighs on both of the sides and sprinkle paprika, salt and black pepper.
3) Take a large skillet over medium-high heat and add bacon and cook it for 4 to 5 minutes.
4) Cook both sides well and drain on a paper towel and remove excess grease from the skillet.
5) Now keep the flame turned on and cook the chicken for 3 to 4 minutes.
6) Now put the chicken into the baking pan and bake it for around 20 to 25 minutes.
7) Now remove from the oven and cover it with foil paper to keep the chicken warm.
8) Now add this chicken into the skillet on medium-high heat and pour in chicken broth and add mushrooms and cook it for 3 to 4 minutes.
9) Now add heavy whipping cream and stir well.
NURITIONS: Amount Per Serving
| | |
| --- | --- |
| Calories | 425kcal |
| Fat | 32g |
| Carbohydrates | 3g |
| Proteins | 28g |