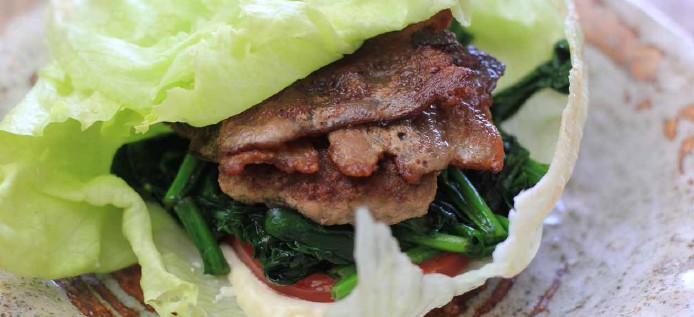 Keto Lettuce-wrapped Burger
A Keto Lettuce-wrapped Burger recipe is necessary to start a meal plan because it is low in carbohydrates. The Keto diet cannot be thought of without a carbohydrate-free recipe.
I will not prolong you, follow me the details of the recipe
The ingredient list for Keto Lettuce-wrapped Burger  (1 portion)
70g ground beef
2 slices bacon (50g) (18g cooked)
1 large lettuce leaf
1 cup fresh baby spinach
1 slice tomato
1 tbsp mayo
Instructions;
1. Fry the bacon in a skillet until crispy. Form a hamburger patty with the ground beef and fry in the leftover bacon grease. Cook on both sides until cooked through.
2. Add the spinach to the leftover grease in the skillet and cook until wilted.
3. Add the mayo, tomato, spinach, patty and bacon in a large lettuce leaf, fold and make a burger!
Nutrition Facts;
358 calories 31.24g fat 2.76g carbs 1.3g fiber 1.19g sugar 16g protein