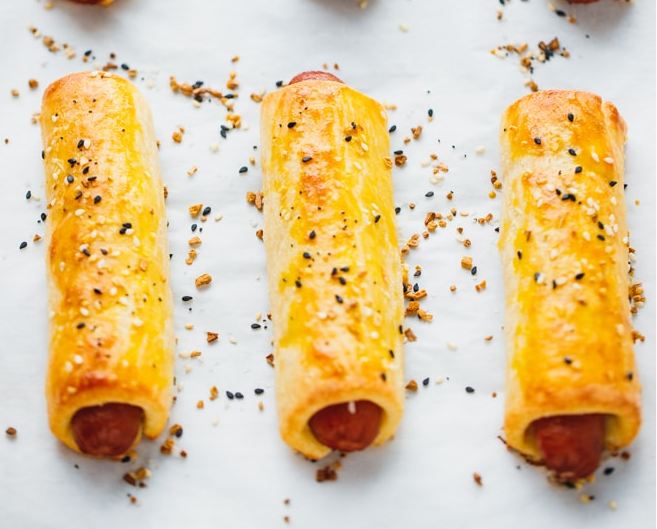 Keto Hot Dogs
Keto Hot Dogs – aka Keto pretzel dogs or Keto Crescent dogs are basically beef hot dogs wrapped in thinly rolled fathead dough, brushed with egg yolk and topped with everything bagel seasoning.
Ingredients for Keto Hot Dogs
8 hot dogs
For the dough:
2 cups shredded mozzarella cheese
1 oz full fat cream cheese
1/2 tsp salt
1 tsp baking powder
1/4 tsp garlic powder — optional
1/4 tsp Italian seasoning — optional
1 3/4 cups almond flour — reserve 1/4 cup to roll the dough with
1 large egg
1 egg yolk — optional
1 tbsp water — optional
everything bagel seasoning — sesame seeds, poppy seeds or coarse salt for topping
Instructions
In a bowl, combine the mozzarella and cream cheese and heat over a double boiler or in the microwave until the cheese is melted. Stir to combine the cream cheese with the melted mozzarella.
Let it cool for 2 minutes, then add in the salt, baking powder and 1 3/4 cups of the almond flour. dd one beaten egg. Stir with a spatula to incorporate. Alternatively, if the cheese is not too hot to handle, knead with your hands.
The rest of the text is on the next page