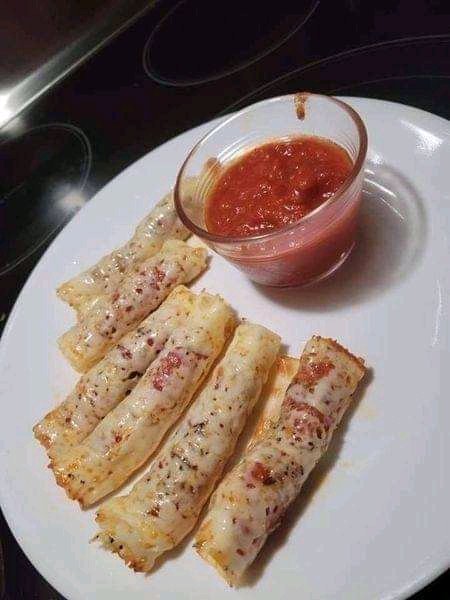 keto pizza roll-upsNet carb 4g
These keto pizza roll-upsNet carb 4g are one of our most popular recipe hacks! They're really easy and quick to make – and oh SO good. When those pizza cravings hit, you'll be set with this recipe. i make every weekend for my kids. It totally hits the spot, and all you need is a couple of basic ingredients that you may already have on hand. If you've got cheese and pepperoni, you can make keto pizza roll-ups! Enjoy.
INGREDIENT for keto pizza roll-upsNet carb 4g
12 slices of mozzarella cheese
Pepperoni slices or you can use mini pepperoni as well
Italian seasoning
Keto Marina Sauce
INSTRUCTIONS:
Preheat oven to 400 degrees.
Line a cookie sheet with a baking mat or parchment paper.
Now lay slices of cheese on the baking mat and place in the oven for 6 minutes or until cheese slices start to slightly brown around the edges.
Remove from the oven and allow the cheese to slightly cool. Allow the slices to cool and sprinkle with Italian seasoning and add pepperoni if you would like.
Roll and serve with your favorite dipping sauce! Enjoy!
NURITION:
1Amount Per Serving: 75 Calories | 6.4g Fat | 0.6g Total Carbs | 0g Fiber | 0 Sugar Alcohol | 4.9g Protein | 0.5g Net Carbs