keto pepperoni pizza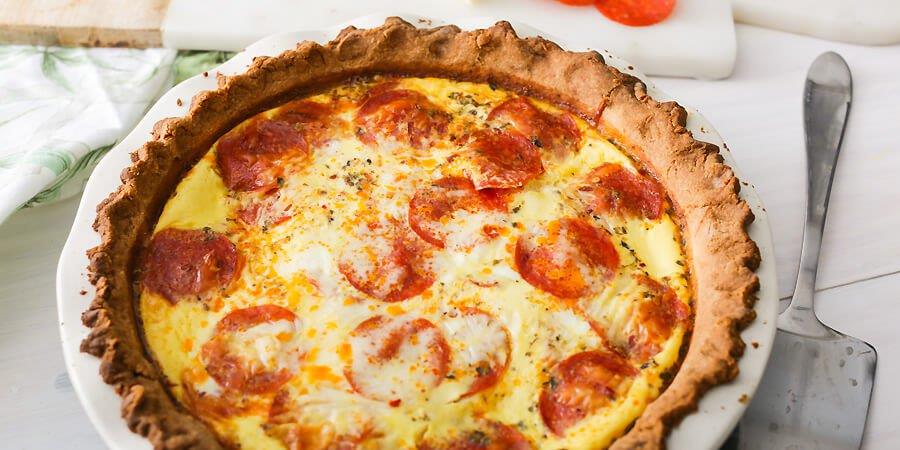 keto pepperoni pizza quiche A lot of keto quiches skip the crust for simplicity reasons, but it's perfectly doable to have your crust and eat it too. For this recipe, we put a simple crust together then pack it full of eggs and pizza toppings. This keto pepperoni pizza quiche will have you dreaming of breakfast.
Ingredients for keto pepperoni pizza :
The Pie Crust:
1 ½ cups almond flour
¼ cup coconut flour
1 teaspoon salt
6 tablespoons cold butter, diced
1 teaspoon xanthan gum
1 teaspoon vinegar
1 large egg, whisked together
Quiche Filling:
15 slices pepperoni
6 large eggs
1 cup heavy cream
1 cup shredded mozzarella cheese
Salt and pepper, to taste
½ teaspoon Italian seasoning
¼ teaspoon red pepper flakes
The Execution: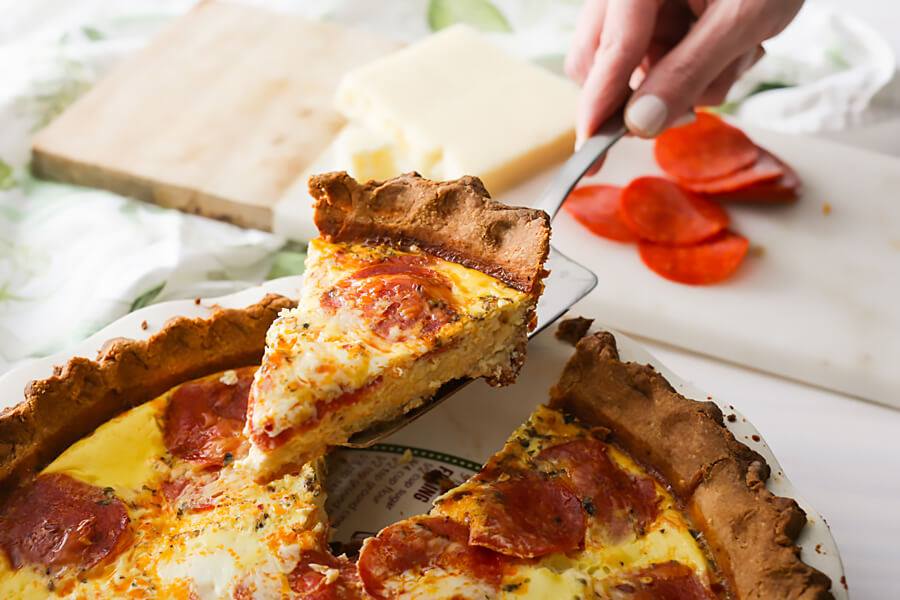 1. Add the almond flour, coconut flour, salt, xanthan gum, and vinegar into a food processor. Pulse a few times, then add the cold butter. Continue pulsing until the pie dough looks like bread crumbs. Add in the beaten egg and pulse again until the dough comes together into a ball. Wrap with plastic wrap and chill for 45-60 minutes.
2. Preheat the oven to 350F. Grease a pie plate and a piece of foil with nonstick spray then set aside.
3. When the dough is chilled, place it between two sheets of parchment paper. Roll the dough out into a 10-inch circle. (More circles if you are making more than one pie.) Peel the top layer of parchment off and flip the dough into the pie plate if the dough breaks mash it back together with your fingers.
4. Layer half of the mozzarella and pepperoni inside the pie crust. In a mixing bowl whisk the eggs, milk, Italian seasoning, red pepper flakes, salt, and pepper together.
5. Pour the eggs into the pie crust, coating the pepperoni and cheese. Sprinkle the top with the remaining cheese.
6. Cover with foil then bakes for about 35-45 minutes. Remove the foil and continue baking for another 15 minutes or until the eggs are fully set.
see also; 7 Day Vegan Keto Meal Plan for Beginner's to Lose Weight & Burn Fat