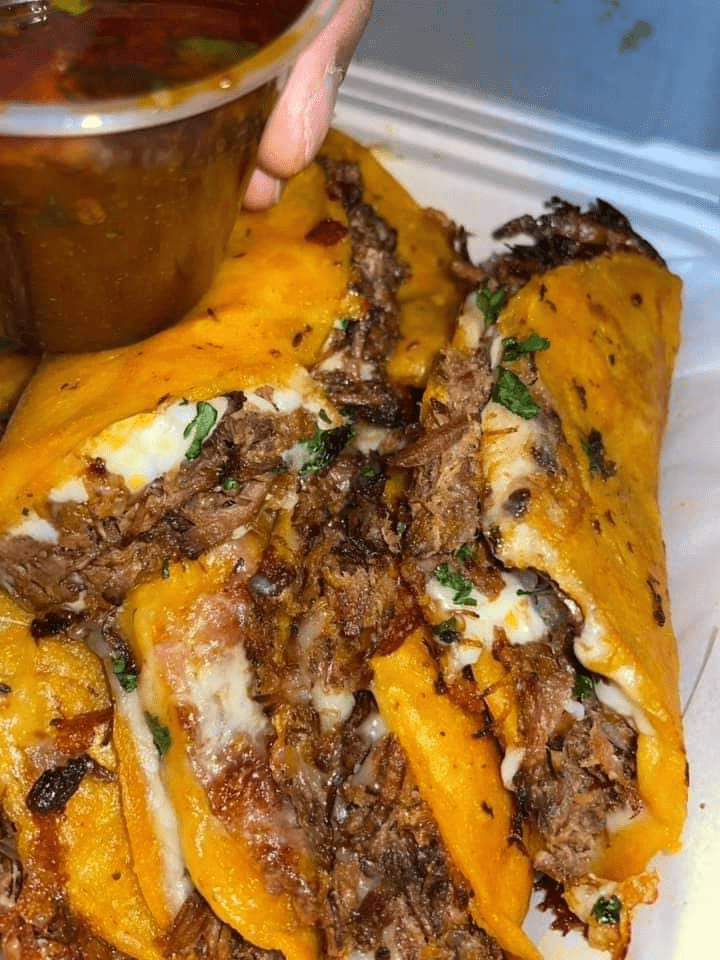 keto Birria Tacos
Keto Birria Tacos is a traditional Mexican dish, traditionally prepared with beef meat. A very savory meat is the star for this recipe for Over the Top Birria Tacos.. This delicacy is created by stewing the meat in a blend of chiles and spices for a few hours . The meat slowly simmers in this sauce, and when prepared the taco is served with a small bowl of the sauce on the side to dip the taco into.
Ingredient for keto birria tacos
2 lbs Ox Tails.
2 lbs Beef Sirloin.
2 Qt Beef Stock.
4 tbsp Tomato Paste.
1 White Onion.
8 cloves Garlic.
2 Cinnamon Sticks.
1 tbsp Black Peppercorns.
1 tbsp Whole Coriander Seeds.
1 Bunch Cilantro.
2 tbsp Real Salt.
1 Tbsp Worcestershire sauce.
2 tbsp Coconut Aminos.
4 Dried Pasilla Pepper.
4 Dried Guajillo Pepper.
2 Dried Ancho Chile.
4 Bay Leaves.
1 tbsp Mexican Oregano.
Additional Ingredients
24 Low Carb Tortillas.
2 cups Shredded Cheese.
2 tbsp Avocado Oil or Lard (pork fat).
1 Lime Optional Garnish.
INSTRUCTION :
1)- Create a Sachet bag using Garlic, Cinnamon sticks, Cilantro Stems, Corriander and Peppercorns. Set aside
2)- Cut the stems off of all the dried peppers and remove all of the seeds. Set aside
3)- Add Avocado oil to a large Dutch oven then sear off the oxtails and sirloin in batches so all sides have a crust then remove from pot and set aside.
4)- Add diced onions to the pot and saute for 3-5 minutes until slightly soft. Next add tomato paste, coconut aminos, Worcestershire and oregano to the pot and cook for an additional minute.
5)- Add the Beef stock, Sachet bag, dried peppers and beef back to the dutch oven and turn heat to low. Simmer for about 2-3 hours with a lid on. If pot begins to boil. turn off heat for 10-15 minutes and then turn back on as needed to maintain a simmer.
6)- Once the oxtails are tender and falling off the bone remove all of the meat and dicard the bones. Shred the meat and set aside. Remove the sachet bag and discard. Scoop
7)- Take all of the dried peppers along with about 3 cups of the Broth to a blender and pulse until the mixture is smooth. Pour the mixture back into the pot. Set aside about 2 cups of the broth for dipping the tacos in. Stir in the shredded beef and bring back to a light simmer.
8)- To assemble the tacos heat a large skillet over medium heat with a tablespoon of avocado oil then lay out the tortillas in the pan and top with cheese and a small amount of the shredded beef. once the tortillas are crispy and the cheese is melted fold the tortillas over and repeat until all the tacos are prepared.
9)- Serve Tacos along with the Consomme and Devour.
NURITIONS:
| | |
| --- | --- |
| Calories | 435 |
| Fat | 20g |
| Carbohydrates | 10g |
| Protein | 49g |