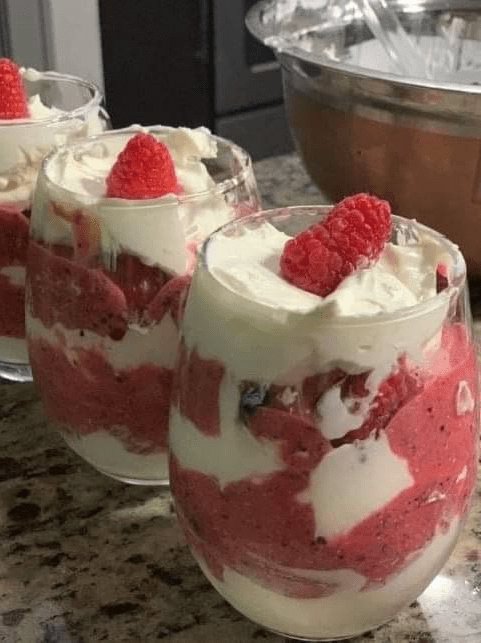 Keto Berry Cheesecake Salad
Keto Berry Cheesecake Salad. A cool and refreshing low-carb and keto lemon berry fluff that is perfect for summer!
Ingridient for Keto Berry Cheesecake Salad
2 cups heavy whipping cream
1 8 oz. package cream cheese, room temperature and soft
½ cup raspberries
3 cups diced fresh strawberries
1 cup blueberries
3 teaspoons lemon zest
4 tablespoons low sweetener such as sola
INSTRUCTION:
1)- With a handheld blender, whip the cream in a bowl until it comes to a peak.
2)- Add in 6oz. of cream cheese and continue mixing until smooth and set aside.
3)- In another bowl, mix in sweetener, raspberries, strawberries, lemon zest, and the remaining cream cheese and blend thoroughly until smooth.
4)- Fill cups with whip cream, then add a layer of blueberries followed by raspberry puree. Repeat the process until layer fills up and top with blueberries.
Notes
Be sure to have a clean and dry bowl before you start whipping the heavy cream or it won't be able to double in size.