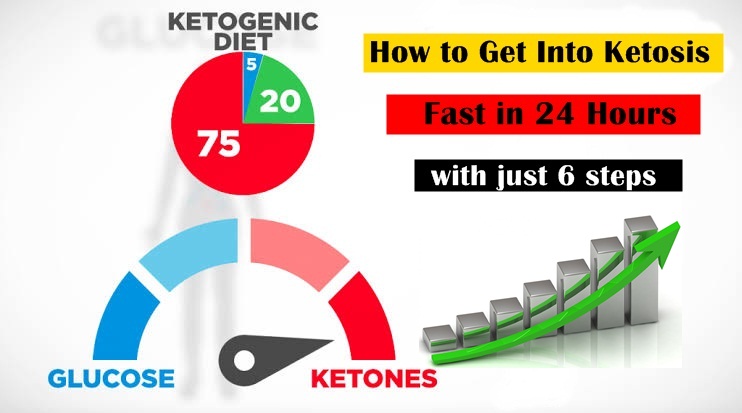 How to Get Into Ketosis Fast in 24 Hours
Many people follow the keto diet. But do not achieve ketosis. Here's how you can achieve this condition in just one day. In just 6 steps. You can definitely be in ketosis within 24 hours. However, the intake of carbohydrates should be significantly reduced even less than the 20g net carbohydrates recommended in the usual keto diet plan.
1) Avoid Snacking
Your goal is to provide the least amount of glucose to your body. Glucose comes from carbohydrates, so look for foods that either don't have any carbs or have a negligible amount. Focus on those that are high in fat with a moderate amount of protein. Drink a lot of water if you're feeling to urge to eat.
If water isn't enough to keep you from getting hungry, get a keto-friendly snack option. Limit it to a single serving — you shouldn't be having a snack in the first place. Find a keto fat bomb with the least amount of net carbs; even one cheese stick should satisfy your cravings.
2) Pick An Optimal Day
If you want to get into ketosis in 24 hours, you need to pick the right day of the week. This could either mean picking the weekday or the weekend. Ultimately, it's up to which day will make you less likely to act on your cravings.
At work, you might get envious of your workmates eating whatever snack they want. This is worse if your department decides to have a pizza party, for example. On the other hand, you might succeed in your road to ketosis if you just focus on work all day.
For most people, it would make sense for them to start on a weekend instead. Why? Well, you can do whatever you want on a Saturday or Sunday. You can lock yourself in the room and watch TV instead of eating out with your friends. Being busy or distracted stops you from thinking about eating all the time.
3) Maintain a Good Amount of Electrolytes and Drink Lots of Water
Once you begin the keto diet, you lose water and electrolytes at a faster rate. Electrolytes such as calcium, phosphate, magnesium, sodium, and potassium are important for your body. They keep you hydrated while helping your muscles and nervous system function properly. The rest of the text is on the next page…