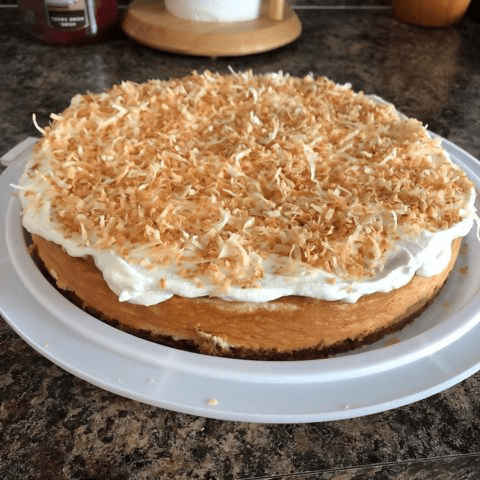 Keto Coconut Cheesecake Pie Recipe
A simple and delicious Keto Coconut Cheesecake Pie Recipe that's low carb and keto-friendly.
It's easy to make coconut cream pie dessert. This keto coconut cheesecake pie is for coconut lovers, as well as cheesecake fans. The low carb cheesecake pie is so light and fluffy that you will find it hard to eat only one piece.
I love everything about this gorgeous keto coconut cheesecake pie,
Prep Time: 15 minutes
Cook Time: 1 hour 40 minutes
Total Time: 1 hour 55 minutes
Servings: 16 slices
Ingredients for Keto Coconut Cheesecake Pie :
For Crust:
2 cups toasted almond flour
8 tablespoons butter, melted as needed
2 teaspoons ground cinnamon
1 teaspoon vanilla extract
8 drops liquid stevia
6 tablespoons powder sugar substitute
Coconut oil to grease a pie pan
For Filling:
1 & 1/2 lbs cream cheese 3 8-ounce packages, softened
3/4 to 1 cup granular sweetener (to taste)
3 large eggs room temperature
2/3 cup full fat coconut milk canned, room temperature
1/2 tsp vanilla extract
1/2 tsp coconut extract
1/2 cup large flaked coconut (for decoration)
Instructions:
For Crust:
Preheat oven to 350.
Grease pie pan with coconut oil.
Lightly toast almond flour in a dry skillet or pan over medium heat, until fully golden and fragrant (2-4 minutes).
In a medium bowl, mix all ingredients well with a spatula.
Fold the mixture with the spatula towards the end to get a good mixture.
Add pie mixture to prepared pie pan. Using your hands or spatula, press the mixture out evenly.
Add to oven and bake for 8-10 minutes.
For Filling:
Reduce oven temperature to 300F.
The rest of the text is on the next page